Overnewton College Fair was held on Saturday, 11th November 2017 at 39 – 57 Robertsons Road, Taylors Lakes. Overnewton Anglican Community College is a dual campus, co-educational, Prep to Year 12 College with campuses in Keilor and Taylors Lakes.The College Annual Fair is the highlight of the Parents and Friends Association fundraising events and it's a highly successful community event and major fundraiser, made possible by a large team of coordinators and the generous help of many Overnewton families and friends.
Ray White Taylors Lakes was proud to be part of this community event. We had a stand for the day at the Fair and enjoyed meeting so many old and new friends. We raised over $200 through our gold coin donation raffle for one of our Yellow Bikes, and donated to the Silent Auction a $1,500 voucher towards advertising costs when selling with us.
We were delighted that a past vendor of ours from many years ago, won the Yellow Bike! Congratulations!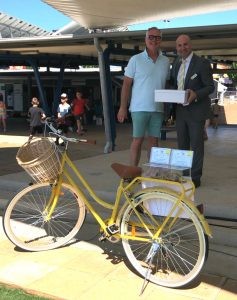 Thank you,James Laussen – Principal of Overnewton College, for letting us be apart of the amazing Fair you have put together.